CAN Area Meetings
Bullhead City, Kingman, Lake Havasu City and Needles
Bullhead City Meetings
Bullhead City meeting changes
Monday Women's meeting Starts at 6pm
Meets at the Senior circle (across from WARMC) Masks required

Monday Born to Live Starts @630
4122 Highway 95, Fort Mohave, AZ

Tuesday the NA Way meeting Starts @ 530pm
4122 Highway 95, Fort Mohave, AZ
Masks required

Tuesday Turn the Page Closed until further notice

Wednesday-Together We Can Meeting Starts @ 7pm.
Meeting at the park

Thursday Under the Stars meeting starts at 7pm
Meets @ Don Sullivan Park @ the fire pit

Thursday- Needles meeting Starts @ 630 AZ time at the Needles Christian Church 1409 Balboa, Needles, CA. Masks required

Friday- Just for Today Start @ 730pm
Desert Shores Community Baptist Church 2625 Landon Dr, BHC

Saturday -Attitude to Gratitude meeting Starts @7pm @ Don Sullivan park

Sunday- Second Chance at Life Starts @ 6:30pm
1250 Mohave Drive, BHC, AZ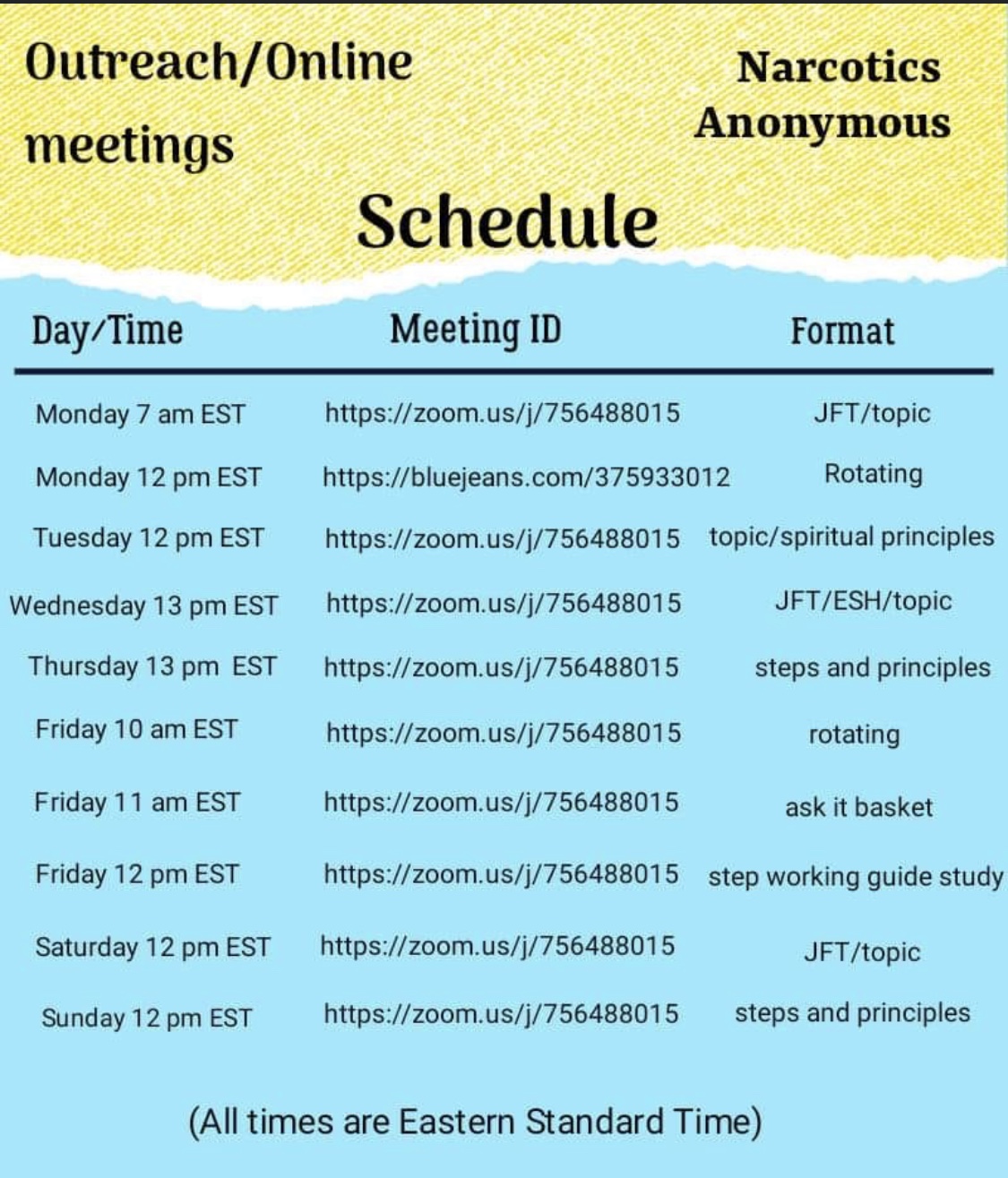 Until further notice here are the meeting changes for the CAN Area.
We will update as changes occur.
Kingman Meetings
Never Alone, Never Again (women's meeting) currently closed
Meetings held at KRMC all currently closed
Kingman Zoom Meetings
Mon- Sun @7pm Meeting ID: 362208451
Tuesday @530pm Meeting ID: 771839575
Thursday @5:30pm Meeting ID: 915895391
Friday @7pm (in person) 3200 Shangri La Drive at T N R Collision
Saturday @11:00am Hope Not Dope meeting Meeting ID: 916667134
There are also online Zoom meetings occurring throughout the Region and world. Meeting codes are listed in the following pics.
Lake
Havasu Meeting Changes
In person at Jack Hardie Park daily @ 7pm
Monday- Jamie H 7pm zoom meeting Meeting ID: 696-146-6480 PW: havasu

Tuesday- Dana G 8am zoom meeting Meeting ID: 696-146-6480 PW: havasu

Tuesday- Julie B 12pm zoom meeting Meeting ID: 696-146-6480 PW: havasu

Tuesday- Jamie H 7pm zoom meeting Meeting ID: 696-146-6480 PW: havasu

Wednesday-Jamie 8am zoom meeting Meeting ID: 696-146-6480 PW: havasu

Thursday- Tom 8am zoom meeting Meeting ID: 696-146-6480 PW: havasu

Thursday- Julie B 12pm zoom meeting Meeting ID: 696-146-6480 PW: havasu

Friday- Tom 8am zoom meeting Meeting ID: 696-146-6480 PW: havasu

Friday- Laura K 7pm zoom meeting Meeting ID: 696-146-6480 PW: havasu

Saturday- Mike M 12pm zoom meeting Meeting ID: 696-146-6480 PW: havasu

Saturday- Billy B 7pm zoom meeting Meeting ID: 696-146-6480 PW: havasu

Sunday- Suzette A 12pm zoom womens meeting Meeting ID: 696-146-6480 PW: havasu

Sunday's- Jamie 7pm zoom meeting Meeting ID: 696-146-6480 PW: havasu